Winter Storm Quinn Bombards East Coast
The second winter storm within a week is expected to hit the Northeast today and bring with it heavy snowfall, especially along the Boston – New York City – Philadelphia I-95 corridor. Commuting is expected to be difficult and even dangerous this evening, with wet heavy snow expected. The storm has also limited operations at some ports and terminals along the East Coast:
Port of New York/NJ Alert
Interport at Port of NY/NJ Closed today due to storm.
Packer Avenue Marine Terminal
Packer Avenue Marine Terminal will be closed Wednesday 07 March due to weather emergency.
Port of Philadelphia Alert
PhilaPort main offices closed due to winter weather. 
As of now, all ports and terminals are expected to resume normal operations Thursday morning, March 8th. We will keep you informed of any additional information regarding these port alerts.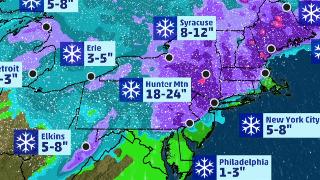 Back to Main Blog |

SHARE: